CH Joval Angel's Kiss
Crufts 2007
Best of Breed
Crufts saw record crowds this year...
It was Standing Room Only at the Airedale Ring


As well as everywhere else in Hall #5

Krissie stayed in her "Private Suite" until shortly before ringtime


The Airedale Terrier Breed Judging
Judged by Mr. Michael Sarjeant

101 Airedales Entered



The Initial Lineup in the "Open Bitch" Class

Judge Sarjeant takes a good look...



Krissie Shows her Impressive Movement... Perfect



Now for the Standing about .... Nothing to do but look pretty,
wag your tail and ask for treats...

The Final Stack .... And the winner is ...



KRISSIE !!!! Pictured with her First in Open Class Ribbon


Judging and Award of "Best Bitch"

By Winning "Best Bitch"
Krissie earns her first CC - Challenge Certificate


Award of "Best of Breed"

Krissie has her Eyes on the BIG Prize...

There can be only One .... And the Big Ribbon goes to ...



!!! Krissie !!!




It was "Hurry up and Wait"...for BBC live. No time for formal pictures...
but at least a little time for congratulations and caffeine (thanks Olive)
as we wait in the Staging Area before the Terrier Group began.


The Terrier Group
Judged by Mr. Stuart Plane

27 Breeds Represented
(2465 Terrier Entries)


Making their entry into the Group Ring...



Look Mom... I'm on T.V. !!!

Who is back there applauding for me?



Gotta Rest-Up...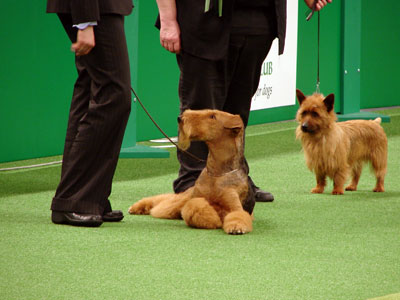 Then a little "Clowning Around"

Now for the final stack...


Krissie was selected as one of the
7 Finalists

Our thanks to Judges Mr. Sarjeant and Mr. Plane
for recognizing Krissie in this very special way!

A very special thanks to Olive and Mary for their unmatched hospitality
and wonderful friendship.
And to all our English Friends who
helped make our stay in the U.K. most memorable!
David, Jane, Rowland, Elaine, Liz and others.